3D Car Modeling with Rhinoceros


Click here to order the book or PDF.
3D Car Modeling with Rhinoceros.
The 3D tutorial book in english.
This is a 624 pages complete step by step guide how to model an Audi R8 in high quality with mainly class-A surfaces with rhinoceros for visualisation or animation purposes. You will learn how to create a photorealistic 3d model of this car out of just one piece of paper. The blueprint.


You will learn how to construct the whole model from scratch up to the quality as seen on this renderings and in the animation. Each working step is illustrated with a screenshot, the used tool with icon and a description what to do. You will learn how to construct the whole model as seen on this screenshots an in the animation.


It is written for Rhinoceros as this program is the absolut perfect entry to the world of nurbs modeling. After doing this purely practical lecture, you will be able to model nearly every complex industry product faster and more precisly. This tutorial is realizable with an educational license of rhinoceros.


The Review on renderspirit.com : Audi R8 in NURBS
The 3D Artist madcar Tutorial.
For the 3D Artist Magazin Issue 32 I wrote a six pages 3D tutorial about the awesome car animation plugin MadCar 3 from iCube R&D group and I have made the cover illustration for the supplement.Thanks to Sarah Slee for making this possible and a big thank you to Anvar from iCube R&D group for giving me incredible good support!


Customer Showcase
Present your renders.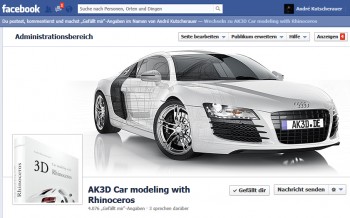 Here are some examples of customers that have finished the whole book and made some incredible cool renderings. It would be a pleasure for me to showcase your work and link directly here on the book page!

If you also have finished your model, please post them of the Facebook Page of the book!

Click here to order and download the original 3D model.

The original 3D Nurbs model as Rhino file.
This is the output of the tutorial book above. It´s the complete final model with all curves, surfaces and blendings. Above you can see a turntable animation of the modelfile, directly captured in rhino with just a little reflection maps added.


All details are modeled with NURBS as described in the book. The file format is 3DM. Every object is put on it´s own material layer. You can use it for animation or still rendering.

The 3D tutorial book in german.
Click here to order the book or PDF.


Customer Reviews
Inspirational Modeling
Oct 24, 2013
by
Errol Leger
I purchased your ebook on rhino modeling this past summer. Very inspiring skills! Useful modeling & surfacing approaches that could apply to any industry.
As an experienced ship designer who models parts and surfaces curved hulls daily on a competitive modeling package. I don't have much time for Rhino modeling. But, I'm inspired to finish your book one day, to add new skills to my resume.
Wish I ordered the physical book...looks like a work of art.

---
Animtion
I like the animation of the car and it moves so well.

---
3D Auto Modeling mit Rhinoceros
May 25, 2013
by
Beat Bachmann
Eines der wenigen (Computer) Bücher das so ästhetisch und stylish ist, dass es das Auge erfreut wenn es nur so da neben dem Mac liegt :-)
Schön und solide gemacht - keine Massenware.
Ok, wahrscheinlich nicht der wichtigste Punkt, aber wer sich ganz allgemein mit Design und schöner Form befasst, der achtet auch auf die Ästhetik der Dinge. Hier punktet das Buch von aussen, genauso wie danach mit dem Inhalt.

Der Autor erklärt dem fortgeschrittenen Rhino Benutzer sehr gut und strukturiert all die kleinen Schritte,
beginnend bei der Vorbereitung eines solchen Unterfangens (Tip: Download der Audi Zeichnung gibt es auf der Webseite des Autors),
über die Konstruktion der vielen verschiedenen Baugruppen bis zum vollständigen Wagen.
Nicht dass sie glauben sie hätten mit diesem Buch im Handumdrehen nun so einen Audi konstruiert oder sie fänden nun dank des Buchs den geheimen "make car" Befehl in Rhino ... nein, es braucht Biss und Ausdauer so etwas zu meistern, wie so vieles im Leben (Experte für irgendwas in 21 Tagen? - träum weiter!).

Durch die hier Schritt für Schritt vermittelten Techniken, mit denen die Teile des Wagens erstellt werden erhält man eine gute Grundlage, wie solch nicht ganz triviale Formen eines Fahrzeugs mit Rhino erschaffen werden. Und das macht Freude! Das Gelernte lässt sich auf eine breite Palette von ähnlichen Konstruktionen übertragen. Ich habe eine Menge Neues über die (Flächen-) Modellierung mit Rhino 3D gelernt.

Wer schon etwas älter ist und nicht Adler heisst, wird sich hier und dort eventuell etwas schwer tun mit der Grösse der Farbbilder in Buch. Manchmal ist ein Detail nicht einfach zu erkennen, vor allem wenn man noch nicht so genau begriffen hat wie's geht. Doch auch dafür hat der Autor das Passende in peto: Das Buch gibt es auch als pdf Datei zu kaufen! Da gibt es dann keine Ausreden mehr, den Wagen nicht fertig zu modellieren :-)

Wie schon in einer Rezension bemerkt wurde, erscheint der Preis auf den ersten Blick hoch. Hand aufs Herz oder so: Haben sie ihre Rhino Lizenz bezahlt? Dann ist dieses Buch eine minimale weitere Investition die sich lohnt. Wer selber schon einmal ein Tutorial für irgendetwas erstellt hat, der kann erahnen welche Arbeit in solch einem 620 Seiten langen Werk steckt!
Ich sage der Preis ist günstig - dieses Buch ist sein Geld wert!

---
Super Buch zum Super Preis
May 25, 2013
by
Wibke ST.
Dieses Buch wurde von mir als ein Geschenk für meinen Freund gekauft. Damit ist er bisher sehr zufrieden. Lieferung war superschnell und zuverlässig. Durch diese Buch kann man sich unmengen an Lehrgangskosten sparen, jedoch muss der Fleiß da sein....

---
3D Auto Modeling
May 25, 2013
by
H. Meierhofer
Rhinoceros 3D ist nun auch am Mac verfügbar. Die Version iRhino befindet sich im Moment in der Entwicklungsphase und ist derzeit noch gratis. Als CAD Programm mit einem Preis von 1000euro ist die Vollversion von Rhino leistbar im Vergleich zu anderen Programmen im CAD Umfeld.

Die Anleitung beginnt bei Null. Die Blueprints sind auf der Seite [...] zum downloaden bereitgestellt. Zum Umwandeln benötigt man jedoch Photoshop. Hier hätte der Autor auch die Version nach der Aufbereitung von Photoshop bereit stellen sollen.

Meine Arbeit steht noch am Anfang, da der Aufwand doch sehr hoch ist. Im Buch sind die Abbildungen sehr klein ausgeführt. Dabei sind die Details recht schlecht zu sehen.

Die iRhino Version unterscheidet sich von der im Buch verwendeten. Dadurch sind Befehle anders bezeichnet aber man findet die Befehle dies stellt kein Problem dar. Bei den Blueprints sind zwei Fehler dem Autor unterlaufen. Bitte auf der website die Korrektur suchen und im Buch korrigieren.

Preis ist hoch, aber für einen CAD Kurs im diesem Ausmaß in Ordnung. Man kann im Selbststudium sein Wissen erweitern und profitiert von dem Wissen des Autors der es weitergeben will. Das Tutorium ist zeitaufwendig und kann sicher nicht schnell an ein paar Abenden durchgearbeitet werden.

---
Hello, i have a question.

3D car modeling book only use Rhinoceros? or you have another book 3D car modelling for 3ds max?

---
CAN I USE THAT WITH 3DS ????

studio max ...

---
The complete Rhino experience
Jun 16, 2012
by
Pierrick PICAUT
I'm nearly a one year experienced user in Rhino and in 3D modeling in general.

This book is a real treasure for who wants to learn every tricks of NURBS modeling with, that's one of the most important thing, an optimised method.

If you follow the book step by step, you'll obtain a perfect model with flowing surfaces.

You won't find any tutorial as detailed as this one. Further more, it's a very nice product with good printing quality. And, for those who can be a litlle afraid by its price, compared to the time you will spend on it and the experience you'll gain it REALLY worth it.

If you wanna learn Rhino. Buy this book.

Pierrick

---
A Book of Knowledge
I received my book just a few days after I placed my order with Amazon and it reached me in perfect condition. The quality of the book itself is a first class hard back cover with very nice semi gloss pages within and has been very well printed.

Andre Kutscherauer has given a meticulous step by step guide into the world of 3d car modelling via Rhino. Andre is not only guiding you through the process of how to model the car...by the end of the book he will leave you with a wealth of new knowledge and understanding on how to use Rhino.

I would highly recommend this book to any Rhino user; it\'s a must have book for anyone wishing to take their modelling skills to the next level...It\'s a book that will expand your knowledge on how to get the very best out of Rhino and it is being given out to us by a master of 3d modelling...Andre Kutscherauer

An excellent book 10 out of 10

---
This book is the bomb!
It is without question the best tutorial I have ever read (and I\'ve read many).The book is exactly as it was represented in the advertising. My copy shipped from Germany and arrived in perfect condition, and within the estimated arrival time. If you are serious about taking your Rhinoceros skills to the next level, this could be the best money you\'ll spend. It was for me!

---
Click here to submit your review.
---
---